Juliette Foucaut - 29 Jun 2015
At the end of May, a month ago today, we attended Feral Vector. We saw many projects and met lots of interesting people. Although we hadn't planned on it, we ended up showing Avoyd for the first time. In light of the nice feedback we got, we think that releasing it sooner, even without gameplay, would probably be a good idea.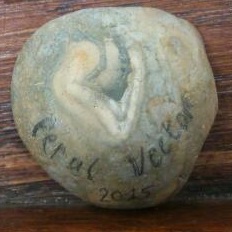 We had initially decided not to show our game since it's still a tech prototype. Presently Avoyd has no gameplay mechanisms other than two teams of AI-controlled drones lazily chasing each other and the ability to shoot. The editing tool is awkward to use. The environments are debug terrain and colours, and we have to keep the resolution low to be able to run it on my laptop. This is a video of the build we showed:
We were happily surprised by the positive feedback we received from those who tried it - thanks everyone who took the time to play Avoyd and talk to us!
despite the game being in zero gravity, i.e. with six degrees of freedom, a bit of a niche genre, people seemed to have little trouble moving through the space which is great news. However they told us they were getting lost, understandably so. Because we know the large debug world inside and out, we forget how disorienting it can be. That's something we'll need to keep in mind.

several people mentioned that they appreciated being able to wander around thanks to the toned-down aggressiveness of the drones.

We loved being told our worlds were beautiful. Neither of us is an artist. We both come from dry, technical backgrounds, so it was a huge compliment and gave a boost to our confidence about the visuals.
What made us happiest was seeing people wanting to spend more time in the game, losing their sense of time. That was the most rewarding feedback we could have dreamt of.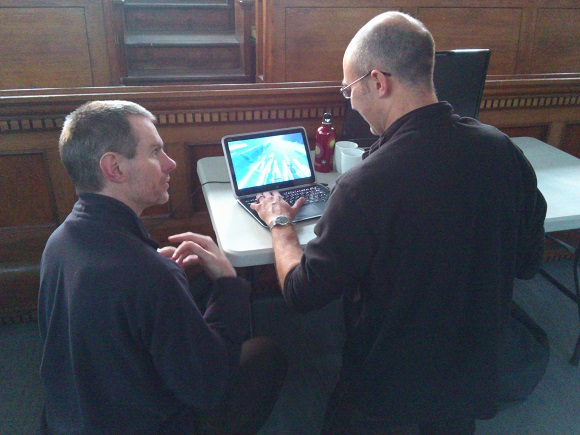 Doug showing Avoyd to Nick
Amongst the many games on display at the event, the one that stood out the most to us was Joseph Fletcher-Ward's prototype platform puzzler "Yani", which could be described as a cross between Portal and Thomas Was Alone where you literally use your head to solve puzzles by picking it up or dropping it. This is the only image I could find of the prototype, I look forward to playing it!
I was also mesmerised by the visuals and the eerie atmosphere of Eliott Johnson's game A Light in Chorus:
It was lovely meeting Sherida Halatoe, the watercolour art on her card caught my eye, but when I looked up her game Beyond Eyes I fell in love with the concept too. Here's the trailer and a recent interview of Sherida:
Another intriguing game was released during the event: Encrypted by Niall Moody.
We also had the chance to play 0SPACE, which blew our minds a bit because it's pretty much Avoyd in 2D; the excellent and slightly icky Push Me Pull You; Doug did pretty well at Towerfall; I got quite a workout playing Bulb Fish; and then we abandoned all preconceptions following avant-garde visionary Kevin Patterson.
Shout-outs to Alex Johansson for the crazy cardboard meet MakeyMakey workshop, George Buckenham for the intro to building your own twitter bot, and to Ed Key for the gastronomic Botanic Walk, thanks to whom I can no longer go out in the fields without seeking brambles: the young shoots taste of butter.
We'd like to thank the organisers of Feral Vector, David Hayward for running such an inviting festival in Hebden Bridge and for giving us the opportunity to show Avoyd. We hope to join again next year!